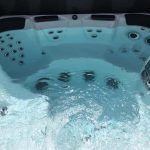 For a hot tub service in Bolton that is both professional and affordable, speak to Marquise Spas. We supply a range to excellent quality hot tubs, spas and saunas, all sourced from highly regarded name brands. Once you've installed your hot tub and enjoyed relaxing moments in it, it is also important to remember to have it serviced. Like a motor car, it is advisable to have it serviced on a regular basis. This will keep it working smoothly, ensuring many more relaxing hot soaks.
Give us a ring to schedule an appointment. Our expert technician will provide, in Bolton, a hot tub service that is both professional and efficient. A hot tub can be regarded as a min swimming pool. As such, it will require similar attention and servicing. It is recommended that you have your hot tub serviced at least once a year. We will work through a maintenance checklist. First, we'll check the water quality. After which we'll flush your hot tub with a biofilm remover before cleaning and refilling with fresh water. The service includes an inspection of the electrical terminals, plumbing and the main components of your hot tub. If any of the components need attention, we can repair them during the service. A service ensures that you can enjoy the benefits of your hot tub, every day of the year.
A hot tub service in Bolton is necessary to keep your hot tub in excellent condition. For more details on how we can assist, or to set up an appointment, contact Marquise Spas today. As a friendly, family-run company, we take great pride in offering excellent quality products and services to all our clients. Moreover, you'll find that our prices are great, and our customer service has resulted in 5-star ratings from satisfied clients. Top companies in the USA manufacture the hot tubs, spas and saunas we have on offer. As such, ensure your hot tub is ready to use, any day of the year, with an affordable and professional service from our team.